Pembrey
Jump to navigation
Jump to search
Circuit Map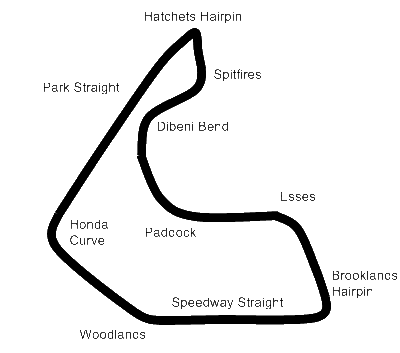 Google Maps
http://maps.google.co.uk/maps/ms?msid=210964093566130626448.00044efece422aadfdfba&msa=0
Getting There
Take M4 from Severn Bridge, and follow it to junction 48 (Llanelli). Follow brown signs to circuit (approx 8 miles from junction).
Easier to go around Llanelli than go through it - so take the coastal road (signs for millenium coastal park or something similar) from Trostre Roundabout (Tescos, petrol station and large steel works here). Take the road nearest Tescos and keep going. particularly usefull if you have a caravan or a motorhome.
If you do come around Llanelli past tesco,just note that there is a bridge with a 3 t weight limit.
Keep tesco on your left
On Arrival
Say hi to the nice people at the main gate, they'll see you right.
Signing On
Sign on hut next to Scrutineering building in paddock.
For BARC events at least, head for the media centre. Follow the road from the paddock to the pit lane, and it's on your left. small room to the back. look for lots of people wearing orange!
Circuit Usage / Configurations
3 configurations. the "Club" circuit cuts off after the pit exit. The Rally cross circuit does the same and goes onto the loose surface just after the crossing.
A new pitlane has been installed for the 2006 season, it now leaves the circuit before Honda. That'll annoy the trucks!
Posts
Post 1 - Hatchetts Hairpin
Usually something goes on there - either outbraking or dastardly manouever!!!! Plenty of bits to pick up during the day.

For truck racing, post is vacated and marshals flag from banking on outside of course.
Post 2 - Dibeni
Very hard for Flaggies to see post 3 as it's directly behind them! also controls paddock 2. directly opposite the end of the pit lane
Post 3 - The Crossing
Gets very busy! Handles parc ferme as well - the crossing itself is manned by circuit staff marshals.
Post 4 - The Esses
On the outside of the circuit, at the right handed part of the esses (the left handed part is the crossing). if trucks are racing, go and join the spectators.
Post 5 - Brooklands Hairpin
Almost a 90 Degree right hander,tricky little turn if you get the power on to early.
But a great overtaking place as long as you got the nerve.
Observers post and flagging post are about 20 feet apart,comes in handy if you want a quiet day.
This is now changed.
The flag/Obs/Marshals Post is all as one.
A new hut and fencing has been erected at the point of where the Flag point used to be.
Also the tyre wall to the left of the post has been replaced with recticel.
Post 6 - Speedway Straight
Not a lot really happens here,if you get a coming together at the hairpin, you`ll end up with the fall out of it.
This post is on the infield section
But it the last post before the pit entry,so it plays an important part if you have to red flag a race
Post 7
This is directly opposite the assembly area/pit lane entry,there is a small right hand kink at the end of the speedway straight prior to the post,fairly quiet here unless they try to cut the corner,but doesn`t happen that often.
In bad weather,dont forget your dingy to get there and back
Post 8 - Honda
The last corner and also the fastest, Vacated when truck racing - trucks tend to use it as target practice!
Post 9 - The Gantry
This is on the start/finish straight,at the end of the pit lane exit, can keep you busy as you control the pit lane exit lights,also you have to keep an eye on post 8 and post 1.
You have a clear view as your about 10 -15 feet up on your own little platform.
Lunch / Circuit Customs
Marshal's Perspective
Very friendly circuit, well worth a visit.
Because of its location, they are always short of marshals. Therefore you may find yourself doing roles above what you are used to, especially if you have some experience from other motorsport activities.
Scanner Frequencies
Usual MSA frequency used - 169.3375Mz FM
How to Marshal Here - Contacts
Local Accommodation
Stayed in the Stradey Park in Llanelli (about 7 miles from the track) A 3* hotel which is fairly pricey but is probably worht it......if you've come this far to marshal, then you'll need a good place to eat/drink and rest your weary head.
Great views of Camarthen Bay from rooms.
Best bit is the chocolates, biscuits and bottled water left in your room upon arrival! :- )
Good alternative is Caernewydd Farm in Kidwelly, sited less than 2 miles from the circuit. They are well used to hosting motorsport personel, and cater for early breakfasts, etc, as neccessary.
They have 5-6 rooms, so book ahead. Recommended.
Camping
Marshals camp in the central paddock area, at the side of the Formula 1 bar building.
Restaurant in F1 bar serving breakfast, Lunch and evening meals
Alternative camp-site if you have a caravan - Pembrey Country park - approximately 2 miles from circuit. Caravan Club site, with good facilities. also very convenient to the park itself, with nice long beach, forest walks and dry slope skiing!
Circuit Contacts