Trainees
Jump to navigation
Jump to search
Being a Trainee Marshal
Without marshals, there wouldn't be motor sport. From the pits and paddock to trackside, marshals allow race meetings run smoothly. A marshal's job is essential providing administrative functions and life-saving safety cover. It's the closest you can get to the action without being sat in the driving seat! There is absolutely no requirement to attend every session of every season, you can commit to as many or as few meetings as you wish; and volunteer with as many circuits and clubs as you wish. This section primarily applies to circuit trainees but most of the information applies to all disciplines. (Speed, Kart etc.)
Volunteering
There are many ways of volunteering for events. The BMMC has a central database of nearly all events and you can volunteer that way. Alternatively you can volunteer through the circuit or club which is hosting the event. Clubs are always on the lookout for new marshals either to be trackside or working in various other roles which we will discuss later.
Kit
Having the correct kit is of vital importance! We can't nip to the car, the Café or shop at the drop of a hat. The wrong kit can make you soaking wet and freezing cold, or boiling hot and sunburnt. The list of items below is of vital importance mainly for comfort but also for your safety and protection from the elements.
Clothing
Always wear natural fibres (cotton and wool) next to the skin. Materials such as nylon and polyester can melt even under flame resistant overalls.
Always keep your arms and legs covered. Overalls provide good protection, especially if they are the orange coloured 'Proban' style, which uses a special flame resistant material. These are worn by many marshals.
If you don't have a pair of orange overalls, don't wear clothing that clashes with the colours of the flags (Yellow and red being the main ones! – No Hi-Viz yellow!!)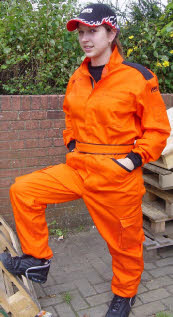 Welding or Rigging gloves that are loose fitting and ideally waterproof. If not, carry a spare pair you can use if your other set gets wet.
A baseball cap and a woolly hat aren't essential, but, you'll be surprised how much heat you loose through your head on cold days, or how bright a circuit can be first thing on a crisp, spring morning.
A strong set of Hiking or work boots are essential. Trainers are poor quality footwear - they're not waterproof and they don't provide ankle or foot protection if you need to kick a bit of debris of the racing line.
A set of waterproofs. Again, not hi-vis yellow! As we all know, there is no real summer in the UK, and a dry day on post is a seldom seen event. So, good waterproofs are essential!!
Additionally:
Ear protection – Either ear defenders or ear plugs.
Sun cream – Obvious reasons, it can be sunny in England once in a while!
Safety Glasses – Not a must but if you're posted near a gravel trap, these will stop dust and gravel flying in your eyes
Whistle – These should only be used by those in charge of posts to alert others of the presence of cars or other dangers, so if you do have one, keep it in your pocket, they are also handy tools for getting drivers attention as they're casually meandering about on the track after retiring.
Sign on
Find out in advance where you need to sign on, and what time you need to do it! There are many ways of doing this. Normally, your confirmation will include such information, if not, ring the circuit and ask. Sign on is essential for all marshals So, don't forget!
Arriving on post
Drive or walk to the post taking all your kit with you. If you do drive to your post (via an access road or via circuit) find out where you can exit and park PRIOR to getting there! Sign on with the Post Chief (PC) or Incident Officer (IO), so they have a record of who's on post. Hand over your Marshals Personal Record Card (the white booklet) and your specialisation Personal Record Card (Race = Blue, Speed = Green, Kart = Red) so it can be signed as a record of you attending that event, and so the PC or IO can provide a comment on your days performance. You'll be given a briefing by the Post Chief or Incident Officer. Listen attentively and if you have a question, do not be afraid to ask. There really is no such thing as a silly question! Don't be shy and make yourself known to all members of your crew. Often brand new people will be paired with an experienced marshal who they will 'shadow' and hopefully absorb all the useful information and anecdotes at their disposal.
Don't annoy the Post Chief
It's always good to ask questions, but save this for the gaps at the end of or in between sessions. The Post Chief is there to run the post, ensure the teams safety, relay information between the team, communicate info to Race Control and report incidents in detail as they happen. Therefore, their role requires concentration! Don't continually ask them questions or distract them mid-session. If you have a question, remember it, and ask at the end of the session. Alternatively, ask a fellow marshal; they may justknow the answer!
To keep the PC or IO happy and to ensure your safety, follow these three golden rules whilst on post:
Number One: Do NOT go trackside unless told to
Number Two: ALWAYS FACE oncoming traffic
Number Three: If you do nip to the loo, TELL someone (ideally the PC or IO) before you go!
Keep to these simple rules, and you're bound to get a positive comment at the end of the day!
On Circuit
- Track Inspections - Judges of Fact - Car conditions (Loose bodywork, fluids etc)
What to do if it all goes wrong
We've all seen it, either on the tv or at the race. It does sometimes go wrong, and drivers will park it where you don't want it.
Let the dust settle – Even in major shunts, if the wheels are still attached and the engine is still running, the driver will be more interested in getting back to the pits than being taken onto the banking.
Remember, ACT AS A TEAM
Decide on a strategy – The main priority is to extricate the driver to the banking. If the car is in a safe enough place, it'll normally be recovered at the end of the session. If this is not possible, the PC or IO will decide on the method of recovery. Either marshals trackside pushing the car into an escape lane, or a straight tow, or full lift. The race will normally be neutralised if marshals are required to work trackside for an extended period of time; either by use of the Safety Car or stopping the race. However, the area may just be neutralised by the use of waved yellows, so always keep a ear out for a whistle.
If more than one car is involved, split your resources - The least active driver is usually the one who is worst off.
Use the car involved in the incident for protection – Keep it between yourself and the oncoming traffic.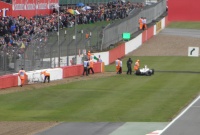 Look and listen for danger - If you hear a whistle, look up, see what is happening and take appropriate action.
Use the safest route to get to the vehicle – This will normally be along the barrier until the last possible moment. Speed isn't always essential and you don't need to sprint. Be aware of rough ground and slippery grass as you're getting to the car. Make sure you approach the driver from his front if you can, as this will allow him to know your there, and you can look in and see if he can self-extricate or will require the use of a Rescue Unit. If he's conscious and capable of moving, give him time to collect his thoughts, don't pull at him, but provide help and support if it is needed. Summon assistance if necessary, by using the universal hand signals. Any driver involved in an incident must not be allowed to wander off and drivers involved in substantial impacts should be taken to the medical centre by ambulance or medical car at the end of the session for precautionary checks.
Always take an extinguisher - Leave it to one of the experienced marshals if you've not used it before!
Isolate the car's electrics - Get the driver to isolate the car if possible. He should know exactly where the isolator is and how to

operate it. If not, look for the Electrical Isolator markings on the car.
On Post Equipment
Marshals post are equipped with a variety of tools to assist you in your duties. These include of course, flags and boards which are used to communicate messages to drivers. But we also have methods of communication with Race Control (Telephone, Radio etc) tools for clearing the track, tools for dressing oil, fire extinguishers and some posts even have supplementary lights to coincide with the flags.
All of this equipment needs to be checked first thing in the morning. We need to make sure that all of our fire extinguishers are charged correctly, we need to check that we have the right number of flags. Get to know what checks need doing on the various pieces of equipment.