Snetterton
Jump to navigation
Jump to search
Circuit Map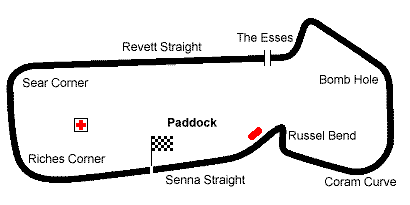 Google Maps
http://maps.google.co.uk/maps/ms?msid=210964093566130626448.00044efea742dc7584b64&msa=0&ll=52.465423,0.945768&spn=0.006733,0.01929
Getting There
Snetterton is just off the A11 Thetford-Norwich road; just take the signed exit off the A11.
On Arrival
Follow the signs to the race control building & park in the paddock or on the pit lane.
Common place for parking in on the grass next to Tyrell's restaurant. Convenient for any necessities before going on post.
Signing On
The general rule is the Ground floor Marshals office at Race Control.
Circuit Usage / Configurations
100
200
300
Posts
Senna Straight
The start-finish straight.
Riches
The first bend on the circuit. Double apex right hander.
Sear
Sharp right hander
Revett Straight
A VERY long straight - the longest on any UK circuit!
The Esses
A chicane at the end of a very fast straight......Left Right. If you enter too fast there is a run off road - don't turn round continue and it will rejoin circuit after Esses, but if you do it too fast you'll get reposrted for taking advantage.
The Bombhole
A fastish righthander between two short straights.
Coram
Long drifting right hander before the dash and break into Russell
Russell
A tight chicane, scene of many desperate last-lap manoeuvres!
Lunch / Circuit Customs
Marshal's Perspective
Scanner Frequencies
Standard MSA frequency (169.3375 mhz)
How to Marshal Here - Contacts
Local Accommodation
The Angel, Larling. A family-run pub; real ale, excellent food, good rooms, great atmosphere. Warning: if you eat at the Angel, bring a big appetite - the portions are enormous!
Highly recommended.
Camping
Circuit Contacts
Circuit tel - 01953 887303
Med Centre - 01953 887185