Shelsley Walsh Hillclimb
Jump to navigation
Jump to search
Circuit Map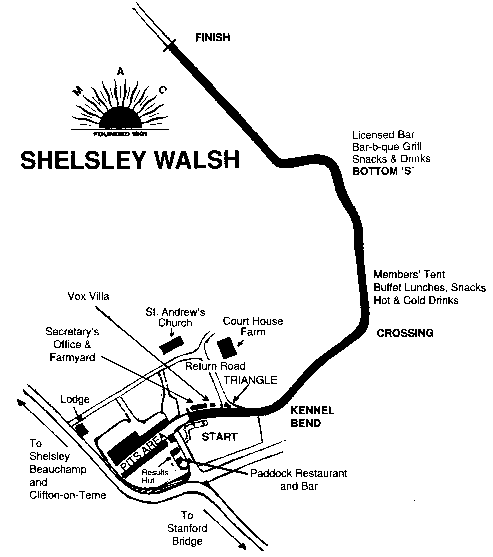 Google Maps
Getting There
Follow signs from Stourport or Worcester
Note for Caravanners or those with long or large vehicles.
If you are approaching on the M5 From the South, I would recomend that you continue past Junction 7 to Junction 5 and approach from the north (which is usually signposted). The route in from the South has some very long, very steep hills and a nasty tight turn onto a humpback bridge. Access from the North is much easier and not much further to travel.
On Arrival
Use the public car park, parking in the lane nearest the track. Either walk through the gate onto the track and head down hill, through the gate behind 'Vox Villa' Commentary post, or though the gate out of the car park and in through the Paddock entrance for sign on.
There is also an officials' car park just around the corner from the paddock entrance.
Signing On
Marshals' hut in the Farmyard, behind course control
Circuit Usage / Configurations
Unchanged since 1903 - the oldest motor racing venue in the world still run over its original course
No return road means Sessions are run in Batches, which gives a chance for the occasional break.
Posts
Triangle
Just after the start line. Usually a quiet post except for mechanical failures. Also closes the start line access when the cars come back down the hill
Kennels
Tricky left-hander with unforgiving Recticel barrier on the exit. Location for both Rescue unit and Recovery vehicle.
Crossing
Fast left-hander with off camber exit, the key to a good time as it leads onto the fast middle section of the hill. Can be busy, with the advantage that most accidents are going away from you. Spectacular corner.
Ess Approach
Just before the speed trap where the fastest vehicles can exceed 125mph.
Not a place for the faint hearted as you're just a couple of feet from the cars, but awesome viewing spot. Can be busy, with space for parking failed/flagged vehicles.
Bottom Ess
Tight left-hander with heavy braking on approach. Location for Doctor's car and Ambulance, with parking for failed/stopped vehicles. Lots of harmless spins here, but occasional 'biggies' as well. Protected by railway sleepers on entry.
Top Ess
Very tight right-hander with daunting banks on both sides. Exit speed is crucial for a fast run up the finish straight. Get it wrong and you'll need to collect bits of car on the way down. Post often busy as tree cover means it remains damp on the track long after the rest has dried.
Finish Line
Unmanned for safety reasons
Finish Paddock
Great if you're the 'meet and greet' kind of person, with occasional 'offs' into the gravel trap for drivers who forget to stop after the finish line.
Lunch / Circuit Customs
Lunch breaks variable, but usually long enough for return to paddock, transport provided if you're prepared to use it ("What's the difference between a DAF van and a sheep? It's less embarrassing to be seen getting out of the back of a sheep").
£5 expenses per day, free unlimited beer after meeting (all days)
Marshal's Perspective
Very spectacular course, close to the action, but safe for the Marshals.
Some odd organisational quirks compared with other Hill Climbs, but improving all the time. Very friendly regular Marshalling crew, always welcoming to new visitors
This place is unique, a superb place for a bit of motorsport - if you can find it!
Scanner Frequencies
Main frequency is 169.2250 there is one other that various chiefs use but don't know that one
There are many different frequencies used for Event comm's, not just at SW but other venues. These may vary from event to event and it is worth making full use of your scanner facilities to track these down. If you are in any doubt of the ranges to scan, dare I suggest starting with the Main frequencies and scanning a few Mhz either side and you may find other's in use. The optimum time to catch other freq's is usually during an Incident! ;-)
How to Marshal Here - Contacts
Local Accommodation
Camping
Camping is now allowed in the officials car park. This is also the competitors campsite so always a party going on somewhere. Many have free beer !!!!
Nearest toilets to the campsite are in the Paddock area, Fresh water is available form a standpipe in front of the toilet block in the paddock.
Circuit Contacts
Secretary: Roger Thomas, secretary@shelsley-walsh.co.uk