Prescott Hillclimb
Jump to navigation
Jump to search
Circuit Map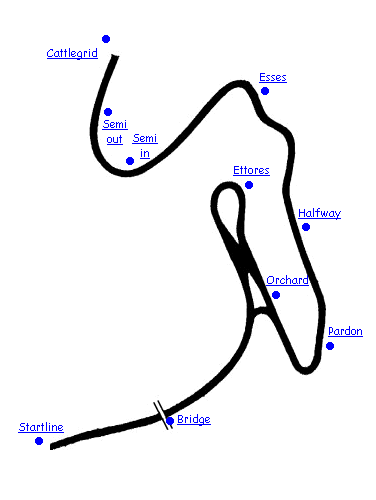 Google Maps
Getting There
Follow signs for Prescott (in blue) that are posted on the A435 Cheltenham/Evesham road. On entering Gotherington, follow the road straight through the village, Prescott is 1.1/2 miles situated on the right hand side of the road.
On Arrival
Newcomers are best advised to make their way to the Marshals Pound, there's always a bunch of regulars in various stages of inebriation around to help.
Signing On
As you enter the venue you have a choice of directions..... bear Left and you can cross the Startline or enter the Paddock, bear Right takes you past the motorhomes and towards the Marshals Pound. Follow the dirt track which is parallel to the race track. Just after the pedestrian bridge is the location of the Marshal's Pound, a fenced off area for marshals and invited guests. Someone will always be there from around 5pm on any Friday before a meeting.
This is where signing-on takes place and also where the alcohol is most freely available!!!!!!!
Circuit Usage / Configurations
Posts
Esses
Classic technical Hillclimb corner. Loads of ways to get it wrong.
Ettores
There might be trees, but they don't protect you, so remember to WRAP UP & keep warm, i've done it here once & felt seriously cold.
Lunch / Circuit Customs
Return road allows for later starts in the morning. Be sure to take your breaks quickly as the return road means there is usually a constant flow of cars up the hill
Signing-on also involves a £10-00 note changing hands!!! (in the right direction!!)
Marshal's Perspective
Because of the hard work of the Prescott Marshals club, the lot of a Prescott marshal is a happy one.
Scanner Frequencies
How to Marshal Here - Contacts
Call John Hicks on 01242 676848 or e-mail hickups@btopenworld.com for more information.
Local Accommodation
Camping
Only available to competitors / mechanics / officials. Go to the B.O.C. office to collect a pass on arrival - and please display it !!. Toilets and water on site during meeting.
Be careful not to block access routes for officials etc - if in doubt ask a regular.


JOIN THE PRESCOTT MARSHALS CLUB!!!! For £10-00 you are allowed use of all the facilities.This includes FREE a hot lunch.Plus a gas cooker, microwave, fidge, freezer, tv, radio plus a limited number of sleeping berths in the marshal's huts.
Nearly forgot, running water and hot water urn are available at the sink in the marshal's hut.
Free tea/coffee at sign-on and during lunch.
A shower is also now available
Circuit Contacts
Chief Marshal / Marshals' coordinator Kevin Cornwall Tel:- 07776 254 300 email:- kevin.cornwall@sky.com
Deputy Chief Marshal Philip Parkes Tel:- 01789 296466 email:- user@mparkes.wanadoo.co.uk
Chairman/Membership Secretary

John Hicks Tel:- 01242 676848 E mail hickups@btopenworld.com