Lydden Hill
Jump to navigation
Jump to search
Circuit Map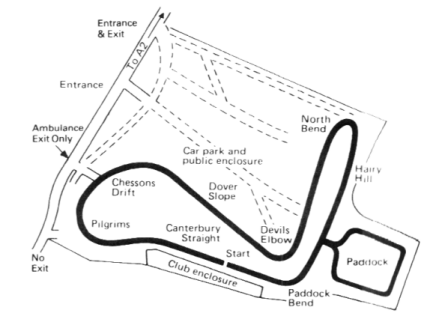 Google Maps
http://maps.google.co.uk/maps/ms?msid=210746641322063044129.0004570744497b8529df1&msa=0
Getting There
From Dover take the A2 to Canterbury/London and about 10 miles from Dover you will find the signs for the circuit.
If you're apporaching from Canterbury/London direction, the old crossing gap has now been very thoroughly closed with bollards. You can continue a few hundred yards to a set of traffic lights (on the A2). Nimble cars can take the right turn lane and squeeze a u-turn at this junction, but the road signage points you down to the next traffic light controlled junction for the "official" route in.
Head back towards London/Canterbury and the circuit will now be on your left. Be warned - the slip road is short! Once on this road (quite narrow), turn left into the circuit after 100 yards or so.
On Arrival
As per signing on (below) - as you round the hairpin, follow the road down into the paddock. At the bootom of the road is the dummy grid, leading to the right. Just before that, on your right, is the enclosure for marshals car parking. Once you have signed on, you can drive to any of the posts round the outside of the circuit, except Post 5 and Post 7 (Devils Elbow & Hairpin respectively) - you will need to walk! However, it is possible to park in the spectator field opposite Post 7 (Hairpin) and cross the track to the post - Hairy Hill is surprisingly steep!
Signing On
when you go in the gate you will see the circuit to your right, drive straight ahead and follow the road into the paddock. The sign on hut is in the marshalls cabin alongside the collecting area by paddock bend.
Circuit Usage / Configurations
The circuit is one mile long (clockwise!). The circuit provides for good overtaking, and requires drivers/riders to be alert at all times. They also run Rallycross there, and they use the loose surface inside Paddock Bend and Chessons. The Rallycross Finish Line is at the bottom of Dover Slope, as you head into Devils Elbow.
In recent years there has also been "oval racing" here, using the circuit from the Startline round Chessons, and cutting back through to the Startline - some formulae run in anticlockwise direction.
Posts
Start line
Start line for race, just after start for Rallycross
Pilgrims drop
For Race - slight left handed drop before Chessons
For Rallycross - Beginning of Chessons Drift
Chessons (Drift)
Long Right hand bend
Post 4
Beginning of Dover Slope - Straight taking cars out of Chessons and into elbow
Elbow in
Beginning of tight left hander. gravel trap here
Elbow out
Exit of elbow - begins a short uphill stretch to hairpin.
Hairpin in
Start of tight right hand hairpin
Hairpin out
End of hairpin at short distance to exit road to paddock.
Post 9
Bottom of hill from hairpin by "breakdown" gate
Paddock Bend
Right hand bend to start with gravel trap
Lunch / Circuit Customs
Dont be there early on a Sunday, race engines dont start till 12,30, how relaxing.
No telephone system for marshals posts. Radio only.
On race days there are usually 3 catering units. 1 is halfway down the hill into the paddock, 1 is in the paddock behind the Scrutineering Bay, and 1 is at the end of the dummy grid, next to the marshals hut. All serve excellent food at reasonable prices - some give discounts for marshals.
On SEMSEC's Saturday race days, they provide sandwiches at lunch time, and free hot & cold drinks on all their race days.
There is a curfew at the circuit - no race engines before 9am on weekdays/Saturdays, not before 12.30 on Sundays, and not after 6pm on any day.
Marshal's Perspective
Great little circuit, from marshalling you can see most of the circuit from a lot of posts. who knows what the future holds for this little circuit
I've found Lydden to be a friendly circuit, who look after their marshals. The circuit will always try to accommodate any (reasonable!) request. The marshals all help each other out, and there is a great banter between marshals.
Scanner Frequencies
Most car clubs use MSA freq - 169.3375
How to Marshal Here - Contacts
SEMSEC : Lydden is our home circuit and we are always ready to welcome new marshals. Contact: SEMSEC Chief Marshal Adrian Dawkins 14, Kearsney Avenue, Dover, Kent. CT16 3BU 01304 823962 KathandAde@aol.com
Local Accommodation
Camping
Loads of grass around the paddock for camping, and showers and toilets available.
Circuit Contacts