Loton Park Hillclimb
Jump to navigation
Jump to search
Circuit Map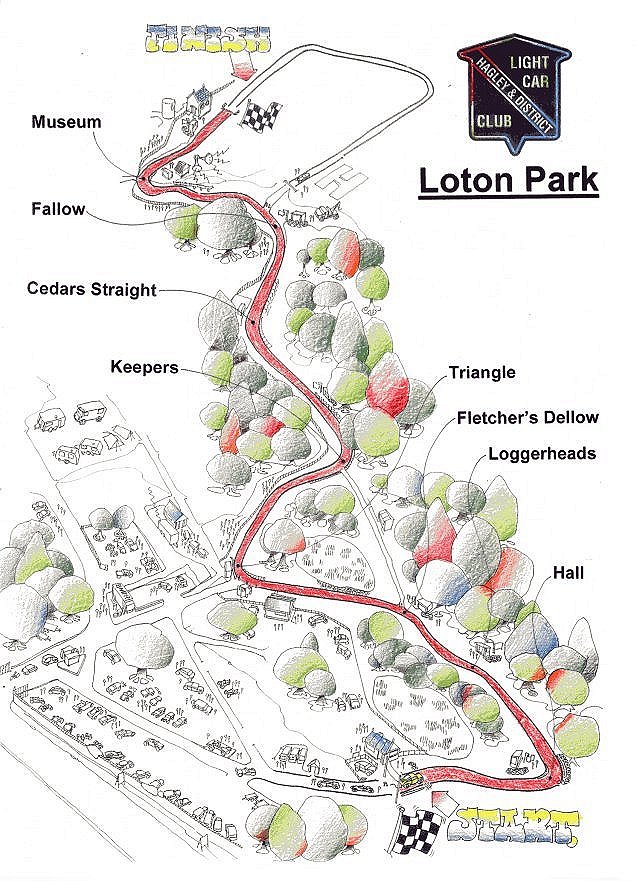 Google Maps
Getting There
Going south on the A5 to Shrewsbury take the A458 and then the B4393 to Alberbury. Loton Park is then on the left.
From the North West take A483 from Chester thru' Wrexham & Oswestry. Before reaching Welshpool take left in village of Four Crosses (signed Shrewsbury), then left onto B4393 & head thru' Llandrinio towards village of Alberbury.
On Arrival
Signing On
In a wooden hut near Triangle bend, under the shade (drips) of large trees. The hut is to the right (as you approach Triangle from the Paddock access road), i.e. just towards the Start from triangle.
Briefings are usually held in the gravelled area outside sign-on. In between sign-on and briefing why not have breakfast at the splendid coffee/food bar to the left of Triangle and uphill from the Paddock.
Circuit Usage / Configurations
Posts
Post 1 - Located at Hall, first corner on hill.
Post 2 - Situated at Loggerheads, no-go for spectators , see where the top runners save time.
Post 4 - Located on Keepers with good view back to Triangle & up the hill.
Post 8 - Located at Museum with excellent view back to Fallow, two of the most incident packed corners on the hill.
Lunch / Circuit Customs
Free coffee/tea at sign-on. Free sandwiches and drinks at lunchtime
Marshal's Perspective
Perfectly located in a beautiful Deer Park, very friendly group of regular marshals.
Scanner Frequencies
How to Marshal Here - Contacts
See http://www.hdlcc.com/loton.htm
Local Accommodation
Camping
Free camping for marshals. Good firm ground, guaranteed to bend tent pegs!
Circuit Contacts