Lime Rock Park
Jump to navigation
Jump to search
Circuit Map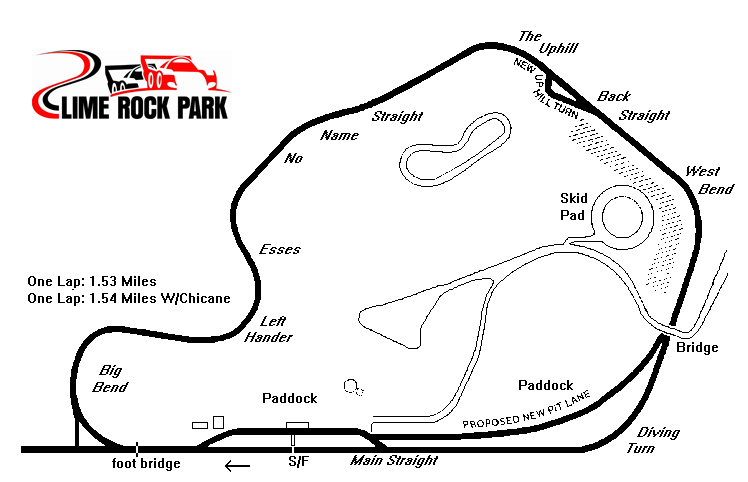 Google Maps
Lime Rock Park 60 White Hollow Road Lakeville, CT 06039
https://maps.google.com/maps?q=lime+rock+park&hl=en&sll=42.24326,-76.912537&sspn=0.288217,0.676346&hq=lime+rock+park&t=m&z=15
Getting There
Lime Rock park is in the middle of nowhere in Connecticut. It is located between Interstate 90 / Massachusetts Turnpike to the North and Interstate 84 to the South, as well as Interstate 87 / New York Thruway or Taconic State Parkway to the West.
On Arrival
Signing On
A sign on facility is located just before the main gate, by following the road straight instead of turning left.
Circuit Usage / Configurations
Lime Rock Park is a 1.53 mile (2.46 km) 7 turn road course with optional turns 8, 9 and 10. Major events run at Lime Rock include: American Le Mans Series, Grand-Am Rolex & Continental, Vintage Festival, and SCCA events.
International
National
Posts
3 - Big Bend
5A - No Name Straight
7 - The Uphill
10 - Bridge
11 - Diving Turn
Lunch / Circuit Customs
SCCA provides lunch at Lime Rock Catering facility opposite the Tower
Marshal's Perspective
Scanner Frequencies
How to Marshal Here - Contacts
SCCA Regions run different events:
Mohawk-Hudson Region SCCA - www.mohud-scca.org [1]
Northern New Jersey Region SCCA - www.scca-nnjr.org [2]
New York Region SCCA - www.nyr-scca.org [3]
Local Accommodation
Hotel options are few nearby, and are typically expensive.
Camping
Lime Rock Park allows camping
Circuit Contacts
Lime Rock Park 60 White Hollow Road Lakeville, CT 06039
Phone: 860.435.5000
Toll Free: 1.800.RACE.LRP
Fax: 860.435.5010

Email Inquires: info@limerock.com