Le Mans
Jump to navigation
Jump to search
Circuit Map
Old map - by poste numbers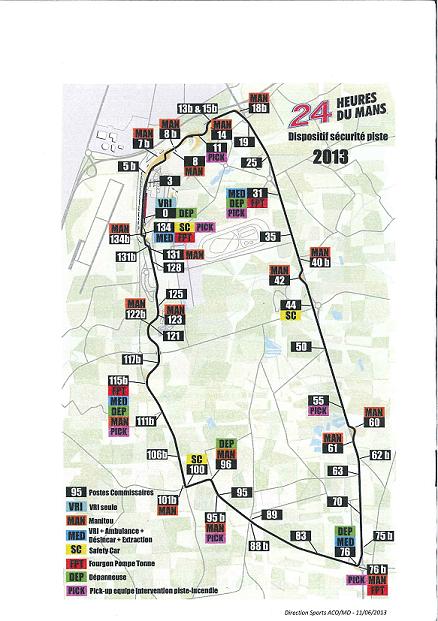 New map - sector numbers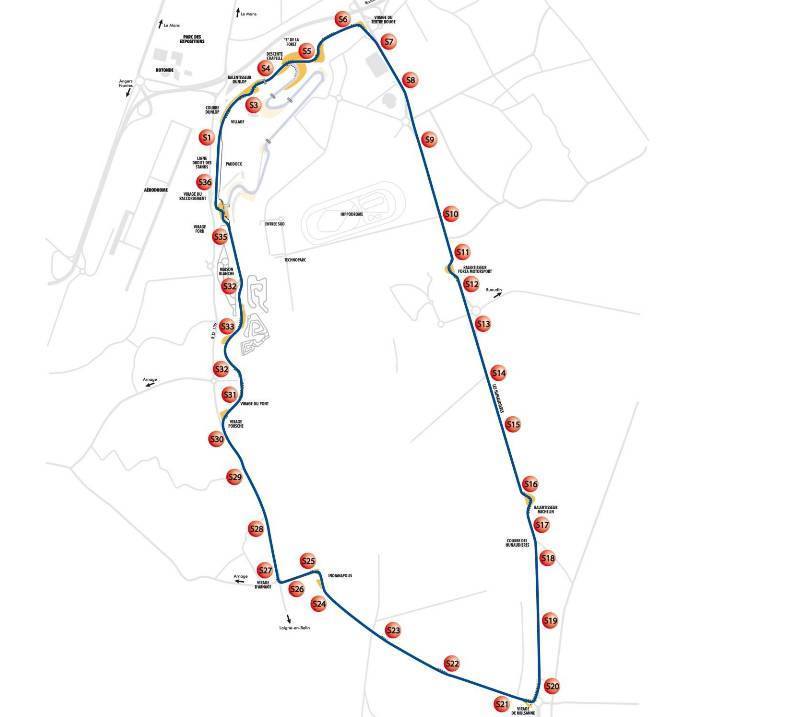 Google Maps
Getting There
Ferry / Eurotunnel / Fly / Train.
For most the simplest way is by car across/under the channel using either one of the many ferry routes or Le Shuttle train. From the Calais area the drive can be as short as 4 hours, but this will be using peage (toll) motorways.

Le Mans has a railway station that is on a TGV route which connects to Lille, Paris and Paris Charles de Gaulle airport. http://www.sncf.com/en/passengers for information. The procedure for buying tickets for TGV / SNCF varies depending on where you are making the purchase from.
From the railway station it is possible to get a local tram all the way to the circuit. Destination is ANTARES-MMArena. The circuit is the final stop. For a marshal it may be that you first want to get to sign on at or near the Parc des Expositions. In this case a bus to Oasis is required, the no.17 goes direct from the station to Oasis. The Le Mans transport system has a good website with some functionality in the English language version. http://www.setram.fr/index.php
Flying to Le Mans directly is not normally possible. Some spectator packages will fly into Le Mans from London, but that tends to be fly in just before the race, back after it finishes.

If you have your own aircraft or can afford to charter one, it's got to be the way to go.

International travellers should fly into Paris CdG and then use the TGV. Flying to Tours with a budget airline will get you closer initially, but the connection to the TGV will be more complicated.
On Arrival
Hopefully you know where your Post is located and where it's campsite is. Thats the usual place to start. Then sign on. An ACO map has now been added that shows the approximate position of all posts.
Signing On
For the 24h details of signing on will be supplied with your final paperwork confirming you have an invite. Be aware this can arrive very close to the race weekend.
In the past the location of signing on has varied according to the day of the week. A map showing the location and opening times is provided with your final confirmation. See also Google map.
At signing on you will have to provide your original marshals licence and your letter of authorisation from your ASN. Signing on queues are streamed by surname. You will be asked for your Poste and your name. Be prepared for all these things to be done in French. If, like me my surname begins with H, be prepared to spell it French style. So It's "Hash" "Eh" "Ah" for me - or just hand over your licence.

At this point you will be handed an envelope with your name and post no. on it. Inside will be your hard card pass and whatever you requested for your guests. You will also have a car pass - but it no longer allows you to park where you like.

You then have to go to the overall pick up point, usually nearby, and quite obvious. If it is not then a blank look and the word "Combinations" pronounced "combin ass ay ons" may help. The ladies and gents who hand out the overalls will expect you to tell them what size you require. (Guess what, in French). Large is easy, XL is "eeks El". If you stay dumb at this point they will figure out you don't speak French and size you up and hand over a set of what they think will fit you.
Try these on. Very large marshals may have a problem, the French sizes do seem a little smaller than what you might expect. For this reason, if it is your first event, take your normal overalls. After that the choice of what to wear is up to you, but you are expected to wear what is supplied, overalls & Dunlop hat. 2013 edit - it seems that the tailor has made the overalls of a more generous cut. If you were large in 2012, a medium was enough in 2013. Sadly this now means that those few who wore small overalls in 2012 are now disadvantaged. As ever - try before you take away.
Circuit Usage / Configurations
International
National
Posts
Traditionally for the 24h postes were numbered according to their distance from the startline. For 2015 a new style has been implemented in order to provide cover across areas that used to be undermanned and to provide more flag / light positions for the slow zone implementations. It would appear that total numbers have not changed, but many postes are having to implement reductions and transfer marshals to other areas. This is quite a serious issue for many non-French marshals.
Post 31 was 3.1km, Post 70 was 7.0km, etc. Bis indicated location on the outside of the circuit.
In 2015 Post 31 becomes the start point of sector 9, the preceeding post was 25, which now becomes sector 8. Greater emphasis has been put on manning both sides of the track, with crossing the track while it is live is strictly forbidden. So we now have Sector 8 interior and sector 8 exterior. Flagging can only be done from the designated positions.

Too many posts/sectors to list, but some that have had non-French marshals in the past were
00 now Sector 1 - Startline
18bis - now part of Sector 6?
was Tertre Rouge
19 now sector 7
was Tertre Rouge inside
Sector 8 & 9 exterior
The new home of the old 106 multinationals.
61
The 2nd Mulsanne Chicane (aka Michelin chicane). Poste 61 look after Drivers Right (and straight-on), Poste 61bis look after Drivers Left (the two posts are separate, no crossing between them). For P61, camping is in the woodland directly behind the post - turn off N138 at the side of the Caravan company and follow the lane. During the sessions there are three points to cover - flag point at the entrance to the chicane (with controls for the lights approaching the chicane), a centre point at the head-on / run-through for those with braking (or breaking) problems, and a flag point at the exit of the chicane (good for blue flagging GTs who've been caught by LMPs in the chicane).
70
75bis
106bis
Located 0.6kms after Arnage corner, is actually the crest of a rise and a change of direction to the left. Much more than is shown on any map. Cars are generally passing at around 170mph or more. Difficult to see approaching cars from exterior position due to FIA fencing. Due to the sectorisation split, the multinational team handed control over to 2 new French teams and went off to the Mulsanne.
123
125
Right-Left Kink after Porsche Curves & Corvette Corner/Karting leading on to short straight before Ford Chicane.
Camping is right behind the Poste. Toilets are on Poste, Showers are shared with the Karting campsite (but there is a key to a locked shower with more room).
For 2013, major work is being done to the Karting Alain Prost Circuit, meaning the Camping for this Poste will be in a different location. The Poste itself should remain where it is.
Lunch / Circuit Customs
Food - the circuit provides nothing. It's down to the individual or in some cases the Poste to look after themselves.
Be prepared to do things the French way is the best advice. The most common practice that you may find unusual is a marshal taking a yellow flag to an incident. Thus you will have only a waved yellow immediatly in front of an incident. For 2015 this has been prohibited.
For 2012, the overalls provided will be orange! The 2012 final instructions clearly state that the (old) whites are no longer authorised.

Marshal's Perspective
Scanner Frequencies
How to Marshal Here - Contacts
Best way to start marshalling Le Mans is to find someone who already does, and ask them to recommend you for addition to an existing team. Alternatively, apply direct to the ACO (organising committee) on the website http://sport.hudson.lemans.org For British marshals you will need an MSA licence and the MSA permit to marshal abroad found here
In 2014, there is a crucial part of the website that does not work (even for the locals) - the uploading of your licence. Either send a copy of your licence & the MSA letter by post or email to the address provided. If your licence is in order it will then be authorised and you should be able to use the website.
Be aware that putting an application in is no guarantee of being accepted. The applications, which should include which sector you want to work, are forwarded to the Chef de Poste (Chef de Secteur) for final approval. If the sector chief cannot include you, you may be offered an alternative. Since official invites can be sent out less than 2 weeks before the event this can lead to difficulties.
Local Accommodation
Camping
Camping for the 24 hours is generally located at the poste. Facilities are fairly basic. There will be a couple of chemical toilets, water and probably electricity. Shower facilities vary from Poste to Poste.
Circuit Contacts