Gurston Down Hill Climb
Jump to navigation
Jump to search
Circuit Map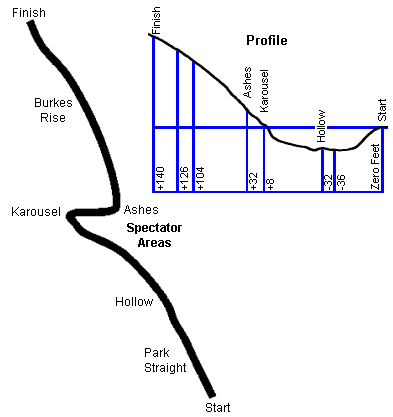 Google Maps
Google Maps page for Gurston Down Hillclimb
Getting There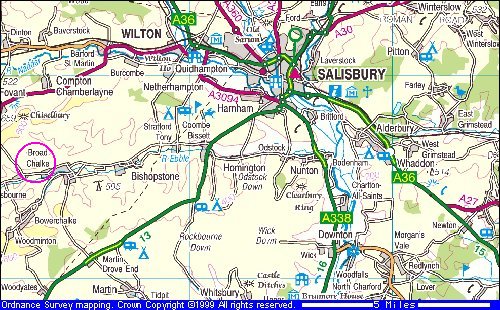 The Gurston Down Hillclimb takes place on Gurston Farm, which lies just south-west of the village of Broad Chalke, which itself lies some ten miles south-west of the City of Salisbury in the County of Wiltshire, Southern England.
Access is best made by turning off the A354 at Coombe Bissett, some three miles south-west of Salisbury, and following the unclassified road through the villages of Stratford Tony and Bishopstone to Broad Chalke.
On Arrival
Ask for Alan Osgood or any of the GIT's
First timers at Gurston get a free guided tour of the hill by a senior member of the club, which helps a lot when you don't know the place.
Signing On
Go to the shed next to the startline - Just ask for Grumpy, not a big stress because competitors and officials alike are all very friendly
Circuit Usage / Configurations
The track is used for Speed Hillclimbs up to national Standard. Mostly cars but occasionally bikes and sidecars also. It's claim to be the best Speed Hillclimb in the country is well founded. The track layout originally designed by Tony Marsh in the late 60's has not changed one iota since the day it opened. It's still as fast and challenging as it ever was. It's particularly noteworthy for it's unusual downhill start! Street Luge events are occasionally staged on the hill - need I mention they run in the opposite direction to the Motor racing?
Posts
Start Line
Standard speed event timing staging needed here, apart from the fact it's down hill (just to make life interesting). Good views of course as far as Ashes make it one of the most fun posts in Motorsport!
No return road means you have to have your wits about you all the time. on the return run you'll have to guide your charges down the correct route to the pits to ensure not clog ups happen :)
Hollow
A wideish but difficult left hander. Very fast due to the down hill blast from startline. Take care not to break timing beam at the post and look for waterlogging during rainy season!
Stanley's
(Now an unmanned post after the 'Big One' took out the post a few years ago, but two extinguishers are placed here for use if required)
Named after Stan Hunt in honor of his 50 years of service to motorsport, a generally quiet post. Pay attention though, if the exit of hollow goes wrong, accidents here tend to be big and fast. The hut and post is half way up a very steep hill, for the fitter marshal only!
Karousel
Imagine taking a steeper tighter version of the Laguna Seca corkscrew, with a nasty camber, the wrong way! Thats Karousel for you!
Deers Leap
As if Karousel were not hard enough, there is Deers leap where the 600hp single seaters often get airbourne and as soon as they land it's into Ashes.
Ashes
This corner is the most difficult of all for the really fast driver. The entry speed, apex clipping point and power gradient are all vital, if a record breaking time is to be achieved.
When it does all come together, the sequence of Karousel Out, Deer's Leap and Ashes make for one of the most awe-inspiring moments in hillclimbing.
Burkes Rise
A quiet post with a nice hut, cover and view. Often called on to help with awkward accidents at the exit of Ashes. Accidents nearer the post will be very fast. Biggest problem tends to be pheasants.
Finish Line
Stand a few feet away from 600hp monsters doing 147mph. Hehehehe!
Shepherd's Hut
The slow down drag after the Finish before Top Paddock
Top Paddock
Spin 'em round and send 'em home!
Lunch / Circuit Customs
The team spirt between the clerks of the course and the team on the bank is much closer than at many other venues. This results in those running the meeting working as hard as they can to make sure you get a break.
You may get called a git by the way. This is not an insult but actually a big compliment. G.I.T. stands for Gurston Incident Team. You get a GIT nickname by doing something either particularly impressive or (more usually) impressively stupid! I'd suggest tring to find out who the following are:-
Grumpy GIT
Not 69 GIT
Professor GIT
Sarky GIT
Quicky GIT
Rally GIT
Midget GIT
Sinex GIT


My suggestion is to get yourself down to Gusrton once in your life to marshal. Even if you don't usually like Hill Climbing, It's exactly how friendly and fun motorsport can and should be.
Marshal's Perspective
Verging on Perfection :)
Friendly, good sport, great parties - top banana.
The Club (BARC SW Center) like to start the day quite a bit earlier than other hills do.
It's a good idea to be ready to work by about 8am. The upside is that you get lunch more often and you usually get to the beer earlier :)
Scanner Frequencies
Not generally needed as you are standing next to somebody with a radio most of the time
How to Marshal Here - Contacts
Contact Chris Logan (clogan@barc.net) at the BARC Office or logon to the BARC Registration Website (http://register.barc.net)
Local Accommodation
Camping
Camping is easy, plonk your tent in any space you find in the massive field next to the paddock field. It's even got a sign saying marshals and competitors camping. Watch out though, if it's a wet weekend, it can get very muddy!
Over the 2002/2003 winter, the Gurston Club have put a big effort into improving facilities. There are now very good toilets and shower rooms in the paddock for the use of all.
Circuit Contacts