Croft
Jump to navigation
Jump to search
Circuit Map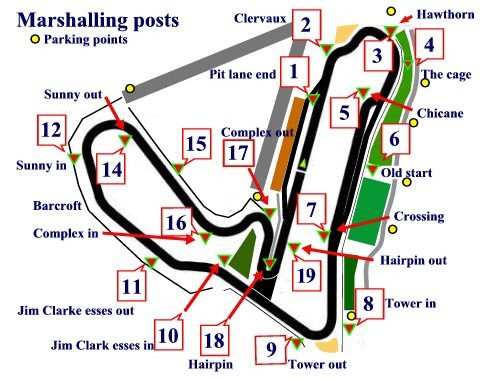 Google Maps
Getting There
Croft is situated near Darlington. From the A1, take junction 57 and the A66(M) towards Darlington, then the A167 in the direction of Northallerton. The circuit entrance is one mile beyond the village of Croft on Tees.
On Arrival
After entering the circuit follow the hedge then wooden fences on left. Use your marshal pass to drive past public parking. Turn left continuing to follow wooden fence. Security men are always ugly but friendly if you are polite at the the final entrance. Get them to direct you INTO the paddock assembly area. You can park in there until end of marshals briefing.
Signing On
Signing on almost always takes place at the porta cabin placed in the assembly area next to the grandstand.
Circuit Usage / Configurations
The circuit *can* be divided into two loops, by cutting through from just before post 10 to the hairpin. But I've only ever seen that once...
Posts
Post 1 Pit Lane Exit
Post is located in a SMALL "Vee" of armco at end of pits. Cars on main straight pass at 120mph to 140mph for GT's, Karts and F3s feet from the armco on the main straight. Touring cars exit up to 70mph feet from other side of armco Vee. You are close to the action. Good view of 30% of circuit.
Post 2 Clervaux
End of a kilometer straight and first corner after the pits. The map says 45° right but the road is about 80° right. So now go and dig the cars out of the gravel trap. One of the busiest posts on Croft controlling exit of paddock assembly, snatch crew, sweeper, etc. Clervaux apparently is not an abreviation for Cleland Rolls Vauxhall.
Post 3 Hawthorn
Behind armco on outside of circuit opposite Hawthorn tyre chicane. Hope you are good at rebuilding stacks of tyres. Can be moderately busy.
Post 4 The Cage
Deals with cars on outside of circuit from Hawthorns upto Old Chicane. Some flaggers quite enjoy this post.
Post 5 Old Chicane
Located at chicane on inside of the track. Quiet post for all but the flaggie, then it suddenly gets busy. Popular Post especially if it rains as it has a track day hut for your comfort. Brilliant post if you are at a Rallycross meeting - lucky you.
Post 6 Old Start
On the old triangular track (pre 1997) this is where the cars used to start, Bikes sometimes still do. On straight after chicane on outside of track. Usually referred to as Post 6, not by name.
Post 7 The Crossing
You control the spectators crossing the track on foot. What have you done to deserve this post or were you unlucky and its your turn yet again?
Post 8 Tower
Lucky You. Important marshalling post where the action will give everybody something to do during the day. It has its own gravel trap and a hut provides shelter. Located on outside of key bend. Unlike most Croft posts, limited view of rest of circuit.
Post 9 Tower Out
Obviously exit of Tower bend and is on outside of circuit. Quite post until the post is hit by a car, liked by some. Unlike most Croft posts, limited view of rest of circuit.
Post 10 Esses In
Cars straight at you as they accelerate into the fast sweeping curves. Good views of 2nd half of circuit. Track day hut keeps you dry. Not overly busy
Post 11 Esses out
VERY fast post as cars come screaming out of the esses at full whack. good view of back end of circuit, but under trees - can be a blessing in rain, but watch out for flies& spiders!
Post 12 Barcroft
Combination of old Barcroft post (p12) and old Sunny In (P 13) posts. End of FAST section under camera gantry and you pick up the pieces. Can be BIG ones. Usually busy at some time during day, one of the most important posts.
Post 14 Sunny Out
Inside of track on appex of medium speed corner. Usually quite other than breakdowns, cars can run wide onto other side of track. Isolated for ameniaties. No post 13 exists
Post 15
Sometimes called "Back Straight". Usually QUIET. You are sent there if you were late or you have previously annoyed the Chief Marshals. What have you done?
Post 16 Complex In
Action often occurs at this Post. Isolated within an island of armco and tyres. Most enjoy this Post.
Post 17 Complex Out
Busy for flagmen using limited view of track. Cars sometimes head towards you as they beach on the humpy grass. Good access for those who need the Loo!
Post 18 Hairpin
narrow post on one of the tightest hairpins in europe (apparently), expect to get dizy as you turn around constantly trying to keep an eye on cars. Good view of start and first 1/2 of circuit
Post 19 Hairpin Out
'Green flag' post for incidents at the hairpin, and also the post responsible for pointing the cars back into the pitlane at the end of racing / practice. Incident wise usually quiet, but kept busy by waving cars into pits at red flags, and end of sessions, and fire cover for the grid. Good for dealing with the grid (expecially the big grids that go back to the hairpin!)
Lunch / Circuit Customs
A lunch voucher is supplied for full days, which can be redeemed at the croft food wagons. also includes hot or cold drink.
No lunch vouchers on Sunday, so bring your own food or buy from catering wagons before Sunday's racing starts at 12:00 noon.
It's worth being aware of Croft's noise curfew. No race engines before 9am or after 6pm saturday. 12pm - 6pm sunday. (we do occasionally have to remind the teams...) Therefore Sunday morning is a good time to do a tour of the paddock...!
Marshal's Perspective
I have marshalled at Croft on a number of occasions and really enjoyed it. I found all the people I met while marshalling at croft to be real friendly.
Great Circuit with Great People
Croft is definitly a circuit I shall be a regular visitor to, plus the fact its the nearest circuit going south from my home circuit of Knockhill.
Scanner Frequencies
165.2125 MHz
How to Marshal Here - Contacts
Contact Steve Gibson news@darlingtom-motor-club.org.uk 01642 644201
Local Accommodation
Try the Chequers pub for bed and breakfast in Dalton quarter of a mile staggering distance from circuit entrance. If you book the night before you can get breakfast if you have been camping. The marshals don't go there to drink after the meeting because that is not politically correct; they go for a Technical De-Briefing. "Going Purple". Pleasant restaurant or bar meals are part of pub for evening meals.
Camping
Usually in paddock (B?) behind the spectator banking at Clervaux.
Circuit Contacts
Steve Gibson can be contacted by e-mail at news@darlington-motor-club.org.uk