Brands Hatch
Jump to navigation
Jump to search
Circuit Map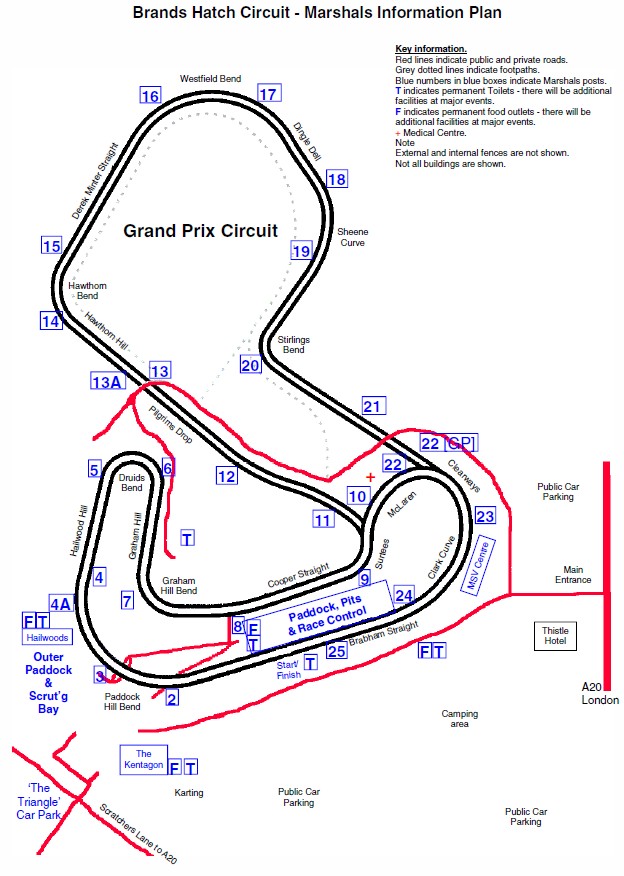 Google Maps
Link to Google map for Brands Hatch
Getting There
From the Motorways, M1, A1
Join M25 heading towards the Dartford river crossing (QE11 Bridge),cross Dartford crossing (06:00-22:00 Fee £2.00 for cars, motorbikes free),leave M25 at junction 3.
From Octo­ber 2014 there will be changes to how you pay to use the Dart­ford cross­ing. You will no longer stop at the cross­ing bar­ri­ers to pay the charge, instead pay­ment will be made: online, via text, on the phone, at retail outlets
As with Congestion Charging, nonpayment will result in a fine £35/70/105 depending on how quickly or slowly you pay it'

Join A20 towards West Kingsdown, follow A20 will see signposts for Brands Hatch, main gate or paddock entrance. (Paddock entrance is in Scratchers lane).
Note that marshals are only permitted to enter the circuit from the Scratchers Lane Paddock entrance and will be turned away from the main gate on race days. See the notes on parking for more general information.
If you're coming from the South and West (M3, M4) travel anti-clockwise around the M25 and exit at J3 taking the A20. An alternative but slightly longer route is to exit the M25 at J5 and take the M26, exiting at Junction 2a follow the A20 North. The main entrance or Scratchers lane are both signposted on the A20.
On Arrival
Parking for most meetings is the Upper Paddock, enter the circuit via the paddock entrance in Scratchers Lane (at the junction of Three Gates Road). For bigger meetings parking is in the Lower Triangle opposite the paddock entrance in Scratchers Lane (at the junction of Three Gates Road).
Entry is by ticket or for MSVR meetings an MSVR pass if held (ticket if not).
Signing On
 Hailwood restaurant at bottom of paddock hill. 
 TIMES: 
  Sat 7.10 to 8.00
  Sun 7.45 to 9.00
  Mon/Fri as Sat.


As a general guide. Racing on Saturday starts at 9am, sign on by 8am. Sunday racing commences 10am, sign on by 9am, but check Officials Instructions.
Circuit Usage / Configurations
There is a blanket noise curfew applying that means racing is finished by 6.30pm and doesn't start until 10.00am on Sunday.
Facilities on the long circuit are minimal, but Portaloos should be available at all posts that are not close to public facilities. The PA system does not operate on the long circuit so if you want to know what's going on, take a scanner but ask your Post Chief/Observer before you use it. Or use a radio, since most if not all Brands Hatch commentry is also on FM radio.
There are two circuit configurations and these are the short 'Indy' Circuit and the long 'Grand Prix' Circuit. The Indy circuit has a lot of gradient and allows a good view of most of the rest of the circuit from many Posts.
The Grand Prix Circuit is not used very often but, when it is, there is often a shortage of marshals. This can sometimes make life very interesting in the backwoods. However, nothing beats the sight of Thoroughbred GPs, historic saloons or BTCC cars hacking down Pilgrims Drop at full speed or jumping the kerbs at Dingle Dell. (Sadly Dingle Dell chicane was removed in about 2003. )Of course, there is a lot of history tied up in the GP circuit (just ask Johnny Herbert or Martin Donnelly) but you can read that for yourself elsewhere.
Posts
Start line
Start line
Post 2
By paddock hill grandstand, and ambulance gate, very close to the action, terrific view. Good flag point.
Post 3
Paddock hill bend, gravel trap. Can be very busy post. Especially first lap.
Post 4a
Bottom of paddock hill bend dip, can be a very busy post. Not for people of a nervous disposition, but be warned, very little cover. Not a flag point.
Post 4
Inside of track as it rises up the hill towards Druids, before bridge.
Post 5
Druids bend, on the tight hairpin so slower speeds here. New tarmac run-off has decreased visitors to the gravel.
Post 6
The other side of Druids bend, this time it's the exit of the hairpin. Often busy too.
Post 7
Bottom of Graham Hill bend, can be interesting when wet.
Post 8
Down the Cooper Straight, used to be a very quiet post, but since they changed Graham Hill bend, has its fair share of drama. Saftey car usually enters circuit from by here.
Post 9
On the approach to Surtees, can be busy, especially when wet.
Post 10
On McLaren by medical centre, has a nice big tyre wall, which sometimes acts like a magnet, to some drivers. Not a flag point.
Post 10 (GP)
Slightly different location to the other Post 10, main difference is that it is on the GP circuit. Small gravel trap in front - can be busy. Is a flag point.
Post 11 (GP)
On the rise
Post 12 (GP)
Brow of the straight quick
Post 13 (GP)
Starting to go downhill, before the bridge. Fast
Post 13a (GP)
Downhill, after the bridge. Very fast
Post 14 (GP)
If they don't brake, pray. Have lost a Fiesta in the trees here.
Post 15 (GP)
Post 16 (GP)
Post 17 (GP)
Post 18 (GP)
Post 19 (GP)
Post 20 (GP)
Post 21 (GP)
Post 22 (GP)
Same post as for Indy circuit but using the GP side of it. Return onto Clearways. Fast but bridge makes for poor visibility to blue flag.
Post 22
Exit of McLaren onto Clearways by the return from the GP loop. Good view.
Post 23
On Clark Curve, large gravel trap, very fast part of circuit, often busy.
Post 24
At the entrance to the pit lane, situated at the end of the pit wall, between the pit lane and the track.
Post 25
On Brabham straight. Not much cover from the sun/rain. Banking can be quite slippery. Not much run off area.
Lunch / Circuit Customs
For some meetings, mainly MSVR, a complimentary breakfast voucher may be provided for a full-english or baguette plus tea/coffee or OJ. Check whether the voucher is for Hailwoods or Kentagon if you don't want to upset the catering staff!
It is a little-known fact that Post 3 had its own mascot in the mid 90's - Vinnie the Post 3 Vulture.
He appeared after the infamous comments of Nicola Foulston that marshals 'are only there for their moment of glory'. It seemed appropriate for Post 3 that a vulture, waiting to pick up a morsel, should be used. Andy Malins (retired ~2000) was known as 'Boss Vulture' and the cartoon image, originally drawn by Wookiee, was seen on pens, t-shirts, probans and stickers. Contact Wookiee if you would like a small copy.
Marshal's Perspective
It's always a good idea to take plent of warm clothing to Brands Hatch, especially when working on the more exposed posts such as 1, 2, 3, 5, 6, 22 and 23.
Work on the well tried formula that it is always easy to take layers off rather than add layers!
Scanner Frequencies
Standard MSA 169.3375 MHz
How to Marshal Here - Contacts
For club motorcycle racing contact BMCRC & MRO (Bemsee) at http://www.bemsee.net They race at Brands several times a year.
For car racing there are several options: for BARC meetings through the BARC website, for most other clubs through www.marshals.org.uk, the BMMC-SE website, or directly to the organising club.
Local Accommodation
Camping
There is a camping area, but facilities appear to depend on the size of the meeting. For the larger meetings, there is a marshal's campsite, c/w toilets and showers, opposite Grey carpark. For normal meetings, camping is usually behind the Kentagon, in Grey carpark. Toilet block next to Kentagon, but no showers.
To get there, use the main entrance. Immediately behind the hotel is a small track to the left of the gates. The camping area is a couple of hundred yards along on the left hand side.
Circuit Contacts
The MSA nominated Marshal Representative is Peter Scillitoe.